Rules of Engagement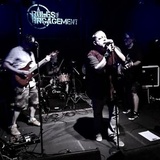 Formed in the summer of 2019, RULES OF ENGAGEMENT are a four-piece Rock group from the Midlands. The band consists of lead Vocalist Paul Phillip Johnson, Guitarist Andrew De'Ath, Bassist Chris French and Drummer Nigel Clark.
RoE (as they are known to their fans), play original compositions that consist of memorable musical hooks and deft arrangements. Their dynamic lyrics support the emotional core of each track. Through this material, the band present tales of life, death, love and loss, plus everything in between.
Catch any of their live performances and you'll find them to be a formidable presence, who provide a musical experience you won't soon forget.
1 past concert