Tell us how crowded the venue is! Write a comment or post an image about this concert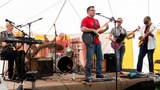 Genres:
Rock
Indie
Guitar driven
Cross-genre
Anteloup are an original, cross-genre, 6-piece band from the heart of Beeston. Bringing their unique approach to songwriting and performing, everything from folk, to jazz, to punk is covered. All established artists in their own right, they bring a fresh, mature approach to new music. You won't be disappointed!!
Loading venue map
20 Church St, Beeston, Nottingham, NG9 1FY
from your current location
The Crown Inn is a real ale pub in Beeston and passionate about beer.
The stage at the Crown Inn is sponsored by CP Walker - http://www.cpwalker.co.uk/
Nearby venues:
3 updates for this concert