Tell us how crowded the venue is! Write a comment or post an image about this concert
Genres:
Acoustic
Folk
blues and/ or guitar instrumentals
Country
An accomplished fingerstyle guitarist and singer who plays an eclectic mix of country blues, ragtime, American folk and bluegrass songs as well as original songs and instrumentals.
As well as performing for local charities and at local events in Sherwood and Nottinghamshire, she has performed abroad and at various blues festivals around the country including the Great British Blues Festival at Colne and The Burnley Blues Festival where she supported Ian Seigal ( as part of a former duo, Sanders and Macleod ) and has also played at Glastonbury. She spent two years living in Appalachia, in the Blue Ridge Mountains of Virginia ( there's a song in there somewhere! ) before hoboing across the USA on freight trains. Only got caught twice... You can expect to hear influences of these experiences in her well crafted instrumentals and original songs. As the late Larry Johnson, "Ambassador of the Blues" said of her playing, "real clean pickin!"
Loading venue map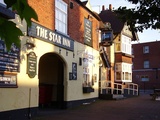 22 Middle St, Beeston, Nottingham NG9 1FX
from your current location
Situated in the heart of Beeston, the award-winning Star Inn offers ten real ales and a whisky bar with over fifty drams to choose from. The Star prides itself on good service and welcomes you to come and sample what it has to offer. Landlord Damian McGrath likes to create an atmosphere to foster great conversations and the attractive layout, comfortable furniture and outstanding beer do just that - it was recognised as the Nottingham CAMRA LocAle Pub of the Year 2019! The pub offers a discount on real ale to Camra members and puts on regular beer festivals throughout the year.
In addition to its three original rooms the pub has a permanent marquee, a separate sports bar (with a pool table which shows tennis, cycling, rugby and cricket on the t.v.), a terrace and the largest pub garden in Beeston.
The Star Inn is the headline sponsor for Oxjam Beeston Music Festival 2019 and is one of the most popular venues on the programme. Come and enjoy!
Nearby venues:
The Crown Inn, about 3 minutes away, is playing music from 1.00pm to 6.00pm
Greenhood, about 5 minutes away, is playing music from 1.00pm to 4.30pm
The Malt Shovel, about 6 minutes away, is playing music from 2.00pm to 11.40pm