Oxjam Beeston 2015, 15:00–15:40 Beeston Voices at The Star Inn
Tell us how crowded the venue is! Write a comment or post an image about this concert
We are an adult community choir, open to anyone over 18. New members are joining all the time, as more and more people start to feel the social and emotional benefits of singing together.
We have an informal, inclusive approach. There are no auditions, and you don't have to read music or be an experienced singer - the focus is on having fun and enjoying ourselves, we just happen to make a great sound too!
We sing mainly contemporary songs, with some gospel and traditional songs. Some examples are: Killing Me Softly, Your Love Keeps Lifting Me, Rule the World, Run, Bridge over Troubled Water, Make you Feel My Love. It's a great way to unwind and relax at the end of a busy day! See Song Repertoire for a full list of songs we have learned so far.
Loading venue map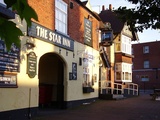 22 Middle St, Beeston, Nottingham NG9 1FX
from your current location
Situated in the heart of Beeston, the award-winning Star Inn offers ten real ales and a whisky bar with over fifty drams to choose from. The Star prides itself on good service and welcomes you to come and sample what it has to offer. Landlord Damian McGrath likes to create an atmosphere to foster great conversations and the attractive layout, comfortable furniture and outstanding beer do just that - it was recognised as the Nottingham CAMRA LocAle Pub of the Year 2019! The pub offers a discount on real ale to Camra members and puts on regular beer festivals throughout the year.
In addition to its three original rooms the pub has a permanent marquee, a separate sports bar (with a pool table which shows tennis, cycling, rugby and cricket on the t.v.), a terrace and the largest pub garden in Beeston.
The Star Inn is the headline sponsor for Oxjam Beeston Music Festival 2019 and is one of the most popular venues on the programme. Come and enjoy!
Nearby venues:
The Crown Inn, about 3 minutes away, is playing music from 1.00pm to 6.00pm
Greenhood, about 5 minutes away, is playing music from 1.00pm to 4.30pm
The Malt Shovel, about 6 minutes away, is playing music from 2.00pm to 11.40pm
1 updates for this concert