Tell us how crowded the venue is! Write a comment or post an image about this concert
Genres:
Pop
Acoustic
Soul
ABII is a Nottingham based musician with an eclectic fusion of influences spanning many genres - reggae, pop, jazz, soul - she performed her debut single at the Stade de France in 2014 and penned the single 'Multicolores' for Lisandro Cuxi, winner of The Voice France in 2017. Her work has international reach, gaining consistent airplay on Le Rapologue, WhatsHot Radio and achieving a slot in the NRJ Radio Top 10 with 2016 summer release 'Trust Me'. She has performed widely, including appearances at the Stade De France, Fête de la Musique á Orgeval, The Nottinghamshire Golf & Country Club and Zigfrid Von Underbelly in East London. Ever the creative explorer, ABII's new pieces flirt with poetic interludes as she strives to keep her lyrical content comprehensive and captivating...
Loading venue map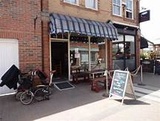 1 Stoney Street, NG9 2LA Beeston
from your current location
A small, friendly micropub devoted to real ales and ciders and good conversation!
Please note under 18s are not allowed in the Pottle after 8pm.
Nearby venues:
1 updates for this concert