Tell us how crowded the venue is! Write a comment or post an image about this concert
Genres:
Rock
Folk
Country
"A Gem" – BBC Celtic Heartbeat
"I've had 'Time's Dark Wing' in my head ever since leaving Moniack. That's a great tune. Prine & Van Zandt would approve!"– Roddy Woomble
"A fabulous writer"– Kathryn Williams
Phil Langran's songs are a powerful combination of immediacy and slow-burning subtlety. Their melodies instantly take up residence in the mind while the lyrics pack a considerable emotional punch. This is set off to great effect by Phil's line in dry, laconic humour which accompanies the live show. The songs and lyrics work effortlessly on different levels, belying the craftsmanship that has gone into their making. Phil is not only a fine musician but also a writer steeped in the poetic traditions of Robert Frost and Langston Hughes. The result is a brilliant intertwining of Americana, Celtic, Folk and Blues themes in distinctive original songs. Like all the best songwriters, Phil has created his own genre, where Harlem nights and New York cityscapes rub shoulders with the west coast of Ireland and scenes from Werner Herzog's films. Phil is joined on stage by a group of musicians drawn together by the quality of his writing – Steve Benford (acoustic guitar, banjo, vocals), Mark Walker (bass, vocals), Frank McCarthy (electric guitar, vocals) and Alistair Bloomfield (fiddle).
The band is happy to perform at all types and sizes of venues, from festival stages to playing acoustic house concerts in peoples' homes.
The band has released three CDs featuring Pippa Marland of Carmina and released their latest album, 'The Distance' featuring the present line-up in November 2017 to critical acclaim:
- "The intelligence, emotion, poetry and poignancy in his writing and performance is there for all to hear" – **** - R2 Magazine
- "Wonderful, poetic songs that calm the mind and soothe the soul" – 8/10 - Americana UK
- "On all levels, Langran writes a potent lyric, crafting his keen words with a crispness that ensures the messages break through, driven by the man's warm, emotive vocals, and remain, long after the song ceases." – Folkwords Reviews
Loading venue map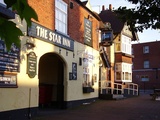 22 Middle St, Beeston, Nottingham NG9 1FX
from your current location
Situated in the heart of Beeston, the award-winning Star Inn offers ten real ales and a whisky bar with over fifty drams to choose from. The Star prides itself on good service and welcomes you to come and sample what it has to offer. Landlord Damian McGrath likes to create an atmosphere to foster great conversations and the attractive layout, comfortable furniture and outstanding beer do just that - it was recognised as the Nottingham CAMRA LocAle Pub of the Year 2019! The pub offers a discount on real ale to Camra members and puts on regular beer festivals throughout the year.
In addition to its three original rooms the pub has a permanent marquee, a separate sports bar (with a pool table which shows tennis, cycling, rugby and cricket on the t.v.), a terrace and the largest pub garden in Beeston.
The Star Inn is the headline sponsor for Oxjam Beeston Music Festival 2019 and is one of the most popular venues on the programme. Come and enjoy!
Nearby venues:
The Crown Inn, about 3 minutes away, is playing music from 1.00pm to 6.00pm
Greenhood, about 5 minutes away, is playing music from 1.00pm to 4.30pm
The Malt Shovel, about 6 minutes away, is playing music from 2.00pm to 11.40pm