Tell us how crowded the venue is! Write a comment or post an image about this concert
Genres:
Pop
Acoustic
Folk
Country
Eight male singers, one acoustic guitarist, sweet 50s 60s harmonies, regular crowd-pleaders, looking forward to our fourth year at Beeston Oxjam.
Already members of the brilliant West Bridgford Social Singers, some of the men's section narcissistically decided that the world wasn't hearing enough of their voices, and they didn't care if the world disagreed. So they met up one Wednesday night in the autumn of 2011 and sang "Dream". They sort of liked it and haven't really stopped singing since...
Having started by stealing slots in the concerts of the West Bridgford Social Singers (did we mention that they are excellent?) they went on to supporting a new community choir in Beeston (also excellent) and then onto gigs of their own. While they are now happy to sing to an empty rehearsal room if they can go to the pub afterwards, they also are happy to support charity events, sing at weddings or other celebrations, in pubs, clubs, festivals and, well, pretty much anything, really.
They cut their first album in January 2014 and their second will be available in autumn 2015. They start the world tour as soon as the millionth disc is sold.
Loading venue map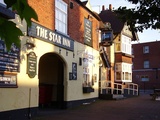 22 Middle St, Beeston, Nottingham NG9 1FX
from your current location
Situated in the heart of Beeston, the award-winning Star Inn offers ten real ales and a whisky bar with over fifty drams to choose from. The Star prides itself on good service and welcomes you to come and sample what it has to offer. Landlord Damian McGrath likes to create an atmosphere to foster great conversations and the attractive layout, comfortable furniture and outstanding beer do just that - it was recognised as the Nottingham CAMRA LocAle Pub of the Year 2019! The pub offers a discount on real ale to Camra members and puts on regular beer festivals throughout the year.
In addition to its three original rooms the pub has a permanent marquee, a separate sports bar (with a pool table which shows tennis, cycling, rugby and cricket on the t.v.), a terrace and the largest pub garden in Beeston.
The Star Inn is the headline sponsor for Oxjam Beeston Music Festival 2019 and is one of the most popular venues on the programme. Come and enjoy!
Nearby venues:
The Crown Inn, about 3 minutes away, is playing music from 1.00pm to 6.00pm
Greenhood, about 5 minutes away, is playing music from 1.00pm to 4.30pm
The Malt Shovel, about 6 minutes away, is playing music from 2.00pm to 11.40pm
4 updates for this concert