Tell us how crowded the venue is! Write a comment or post an image about this concert
Genres:
Folk
Pop
Indie
Acoustic
Dan Bates is a Beeston Based acoustic guitarist, he takes forgotten classics and works his magic.
Loading venue map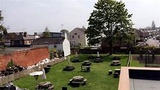 22 Middle Street, Beeston, NG9 1FX
from your current location
A lovely beer garden at the award winning Star Inn. Includes a children's play area.
Under 18s are welcome as long as accompanied by an adult.
1 updates for this concert
Dan's set started early, so get here now or miss it!