Tell us how crowded the venue is! Write a comment or post an image about this concert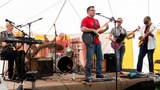 Genres:
Rock
Indie
Guitar driven
Cross-genre
Anteloup are an original, cross-genre, 6-piece band from the heart of Beeston. Bringing their unique approach to songwriting and performing, everything from folk, to jazz, to punk is covered. All established artists in their own right, they bring a fresh, mature approach to new music. You won't be disappointed!!
Loading venue map
2 High Road, Chilwell, Nottingham NG9 4AE
from your current location
The Hop Pole is a local traditional community pub situated in Chilwell. It is a very old, unspoilt pub dating back to 1870. With its lovely original beams and 2 fireplaces, this gives the pub a very warm, homely feel, and with friendly staff throughout this makes The Hop Pole a fantastic place to spend the afternoon.
We have a fully stocked cellar, offering draught beer, wine and spirits, along with real ale and a range of soft drinks for all non-drinkers and drivers.
Nearby venues:
Please note under 18s are not allowed in the Hop Pole after 9pm.