Loading venue map
The Pottle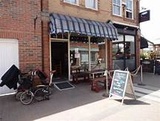 1 Stoney Street, NG9 2LA Beeston
from your current location
A small, friendly micropub devoted to real ales and ciders and good conversation!
Please note under 18s are not allowed in the Pottle after 8pm.
Nearby venues:
Tell us how crowded this venue is!
30 past concerts
Events at the venue:
Latest updates:
Updates 1-10 of 15 Show all
We saw Jinda yesterday at the Pottle of Blues, 13th October 2018 as part of the Beeston Oxjam. My husband and I thought he was brilliant!!! His performance was the highlight of the day and we'd seen a few bands/performers over the day. He was really entertaining, could do magic with his 2 guitars, especially the slide guitar sounded so exciting and enjoyable.He had some nice rapport with the audience, it felt really intimate and a privilege to hear him. It was very exciting when his pal Dave played with him. We'd love to see him again. His singing was really entertaining and enjoyable.

Well done Chris Bramley for filling in the gaps and keeping things going when other people didn't show up.

Cameron Sinclair Harris. Photos: Chris Frost

Lewis Stainer from Be Seen Photography has created this video showing the highlights of the Oxjam Beeston Takeover, with an impressive variety of artists and venues!