Tell us how crowded the venue is! Write a comment or post an image about this concert
Singer, songwriter and jazz lady Jeanie Barton performs her catchy originals plus reimagined pop songs and standards at her piano. Music with a retro jive.
Loading venue map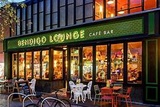 55 High Road, Beeston, Nottingham, NG9 2JQ
from your current location
Named after formidable Victorian bare-knuckle boxer and local hero William "Bendigo" Thompson, Bendigo Lounge sure packs a punch (groan). We're on High Road, right in the heart of Beeston, with a sprinkling of outdoor seating and lovely full width windows across the front that open right up. Behind our handsome bottle green and orange exterior is a warm, welcoming space where we serve a fantastic range of food and drinks (including full kids, gluten free and vegan menus), overlooked by some suitably dotty decor, including an impressive mural of our pugilistic friend. Knockout! Sorry, couldn't resist.
Under 18s are welcome as long as accompanied by an adult.