Thank you for helping us raise funds!
For the sixth year in a row, the Oxjam Takeover has taken Beeston by storm with a universally-acclaimed feast of music, last Saturday 15 October.
In 2016, we raised £14,000, which means:
We were the biggest fundraising Oxjam in the Midlands for 2016, and the second in the whole UK.
This is the also the second highest sum raised by Oxjam Beeston, after last year's record.
Over the six years we've been running Oxjam in Beeston, we've raised over £60,000 that went to Oxfam to fight poverty.
Our heartfelt thanks go to all who attended or helped at any of our six fund-raising events: artists, venues, volunteers, our sponsors and anyone who bought a ticket or made a donation.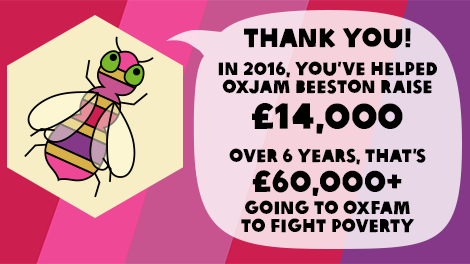 Oxjam Beeston Takeover 2016