Tell us how crowded the venue is! Write a comment or post an image about this concert
Genres:
Folk
Rock
Acoustic
Acoustic songwriting mixed with folk tunes. Poetic lyrics and beautiful melodies.
Loading venue map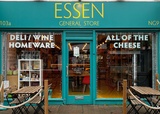 103a High Road, Beeston, NG9 2LH
from your current location
Essen general store is located in Beeston, Nottingham. We specialise in cheese, charcuterie, natural wine & a wide array of artisan food. Our aim is to share our love of food & drink with you.