Tell us how crowded the venue is! Write a comment or post an image about this concert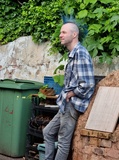 Born behind a hop-picker's hut in Pluckley, Paul moved to Canterbury at the age of 6 and 359/365ths to be closer to Gideon Coe. An adolescence spent flitting between punk bands and folk clubs lapsed into an adulthood similarly squandered. Twenty years ago he found himself stranded in Nottingham when the head gasket went. For Oxjam he'll probably do the one about squirrels, and the Ben Kenobi one, and the one with the "their cat chose them" verse.
Loading venue map
74 Middle Street, Beeston, Nottingham, NG9 2AR
from your current location
A welcoming community resource which supports mental health. Lovely garden and cafe.
Under 18s are welcome as long as accompanied by an adult.