Tell us how crowded the venue is! Write a comment or post an image about this concert
Danny Riggs is a singer, rapper, drummer and songwriter from Nottingham. His genres are rap and rock, his biggest inspirations including Post Malone, Justin Bieber, Juice WRLD, Travis Scott, Kanye West and Owl City, as well as bands such as The Beatles, Oasis and Green Day. Danny has always been involved in the music world, from being a member of his primary school choir to participating in the BBC Philharmonic Orchestra. He gained an interest in singing and writing songs at a young age, and has been drumming for ten years. He truly realised his dream of becoming a successful musician when he joined the Circle of Light project in 2021, featuring on their third annual album with two songs. Danny has since taken part in many performances, including his first gig, the Sound of Nottingham Festival, and more shows with the Long Eaton Silver Prize Training Band. Currently, he is aiming to learn how to produce and collab with many local talents, with his big goal to achieve international success and make a change in the world with his music.
Loading venue map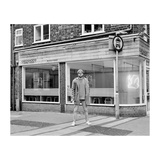 38 High Road, Beeston, NG9 2JP
from your current location
First speciality coffee house in Beeston, Nottingham set over two floors with a light bright spacious feel.