Tell us how crowded the venue is! Write a comment or post an image about this concert
Genres:
Folk
Rock
Pop
Indie
Acoustic
We are a female acoustic duo, performing a wide genre of songs including folk, rock and pop. Covers include artists such as meatloaf, the killers, Fleetwood Mac, Lucie silvas, prince, Michael Jackson, Ah-ha.
Loading venue map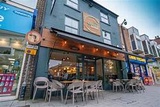 66 High Road, Beeston, Nottingham, NG9 2LF
from your current location
Small, independent restaurant in Beeston serving up tasty breakfast, lunch and evening meals.
We've got a real focus on using simple, fresh ingredients, always sourced as locally as possible.
Under 18s are welcome as long as accompanied by an adult.