Tell us how crowded the venue is! Write a comment or post an image about this concert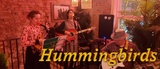 Hummingbirds (Elaine, Magdalena and Don) is the lively and creative result of three musicians who have known each other for ages and have been on separate musical journeys until their paths collided, or should I say intertwined, as this has been a harmonious coming together. We play a range of fast paced Hispanic and Latin rhythms in the main. Don our lead guitarist and Elaine, the rhythm guitarist, have played together in jazz projects before, on the main stage in Harrow Road and at Mofest. Magda our sassy and incredibly energetic performer has brought her unique personality and performance know-how to the band to lift us to another level. She's introduced us to the ukelele and its now a key part of our sound, along with shakers, hand-drums, maracas – you name it, Magda has it. Look out for us playing in Nottingham and Derby, hope to see you soon x.
Loading venue map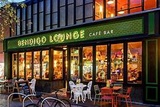 55 High Road, Beeston, Nottingham, NG9 2JQ
from your current location
Named after formidable Victorian bare-knuckle boxer and local hero William "Bendigo" Thompson, Bendigo Lounge sure packs a punch (groan). We're on High Road, right in the heart of Beeston, with a sprinkling of outdoor seating and lovely full width windows across the front that open right up. Behind our handsome bottle green and orange exterior is a warm, welcoming space where we serve a fantastic range of food and drinks (including full kids, gluten free and vegan menus), overlooked by some suitably dotty decor, including an impressive mural of our pugilistic friend. Knockout! Sorry, couldn't resist.
Under 18s are welcome as long as accompanied by an adult.