Tell us how crowded the venue is! Write a comment or post an image about this concert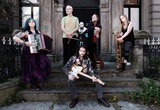 In the town where the only thing that leaves is the 5 Hills and the tourists, 5 Hills Out took their name on the way out and onwards to their path of folk, punk and truth. Now they're making their stand against messing up the world, armed with passionate lyrics, a deadly arsenal of folk instruments and high octane performances, escape is futile.

Loading venue map
19 Wollaton Road, Beeston, NG9 2NG
from your current location
At The Commercial Inn we take the drinks we serve very seriously. Our friendly team will go out of their way to find the best drink for your food and your mood. Ready to discover your happy hour?​
Under 18s are welcome until 9.30pm as long as accompanied by an adult.