Tell us how crowded the venue is! Write a comment or post an image about this concert
Genres:
indie
Hiphop
spoken word
"I tried"

These are the final words of Kid. Villain before he falls before the forces of darkness (or is it the light that gets him?)

Channelling hip hop, indie and spoken word influences, this boy-man bears his soul to the world in quippy, sadfunny songs.
Loading venue map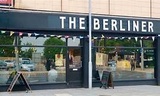 6-8 High Road, Chilwell, NG9 4AE
from your current location
Sophisticated cocktails, gourmet pizza and cutting-edge music, The Berliner brings European nightlife to an unsuspecting place; Beeston.
Under 18s are welcome until 9pm as long as accompanied by an adult.