Tell us how crowded the venue is! Write a comment or post an image about this concert
Hurtsfall have a unique approach: with no guitars, keyboards and Bass VI build a rich soundscape as a foundation for Sam's distinctive theatrical delivery. Based in Nottingham, the ancestral home of Lord Byron, they share his penchant for gothic romantic verses. Hurtsfall blend post-punk and synth/pop, recalling the essence of your favourites with a fresh genre-spanning twist. Down The Front Media describe them as "Like a fine wine...flavours are subtle with hints of The Damned, Bowie, Depeche Mode and Host-era Paradise Lost."

Loading venue map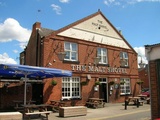 1 Union Street, Beeston NG92LU
from your current location
The Malt Shovel is situated just off the main High Street in the centre of Beeston. Tastefully decorated and fast becoming a social hub.​
Serving a selection of cask ales from both national and local breweries, there is always something for everyone.​
Join us every other Saturday for live music from local bands, and every Sunday pop down for our open mic night; free drink for every performer.
Under 18s are welcome until 9.30pm as long as accompanied by an adult.