Tell us how crowded the venue is! Write a comment or post an image about this concert
Reciprocal Roles are an alternative rock band based in Nottingham, UK. Their ethereal and intense sound draws from shoegaze, post-rock and dream pop. Reciprocal Roles explore relational and developmental themes of attachment, memory and change.
Loading venue map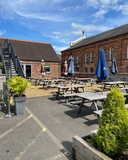 19 Wollaton Rd, Beeston, NG9 2NG
from your current location
At The Commercial Inn we take the drinks we serve very seriously. Our friendly team will go out of their way to find the best drink for your food and your mood.
This venue can be found upstairs - accessed from the garden area. Sorry this venue is not accessible.
Under 18s are welcome until 9.30pm as long as accompanied by an adult.