OXJAM BEESTON MUSIC FESTIVAL 2023, 19:00–19:30 Evelyn Pretty and the Sapphire Starlets at STAR INN GARDEN STAGE
Tell us how crowded the venue is! Write a comment or post an image about this concert
Evelyn Pretty an International vintage inspired singer. Still fairly new to the singing scene, she has in the short amount of time gained a singing residency, gone international and formed the fabulous Starlets!
The Sapphire Starlets made up of Ethel Starlet, Bonnie Starlet, Eva Starlet, Rose starlet and Penelope Starlet to create the best in Postmodern Jukebox and vintage experience!
With Evelyn Pretty taking the role of singer and the Sapphire starlets bringing all the dance moves giving the audience a full live show!
Loading venue map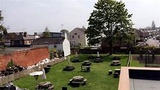 22 Middle Street, Beeston, NG9 1FX
from your current location
A lovely beer garden at the award winning Star Inn. Includes a children's play area.
Under 18s are welcome as long as accompanied by an adult.